We are researchers, pathologists, physicians and epidemiologists in a research program that aims at eradication of ovarian cancer through prevention, early detection of ovarian cancer, and the development of new treatment modalities for patients with ovarian cancer..
About this Site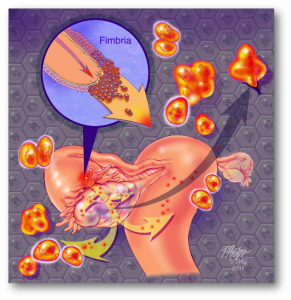 Radical surgery and cytotoxic chemotherapy have extended survival but have not reduced the overall mortality of ovarian cancer, and there is currently no effective screening strategy. This is due, in large part, to an inadequate understanding of the early events of ovarian carcinogenesis. Unfortunately, unlike cancers arising in the colon, breast, cervix, endometrium, prostate, and pancreas, where the early events of carcinogenesis can be studied because their precursor lesions have been well recognized, the precursor of ovarian carcinoma has eluded detection. Our immediate objective of this research group is to then carefully characterize the histopathological and molecular features of the precursor lesions(s), such as those found in the fallopian tubes. We are undertaking innovative studies aimed at providing the scientific underpinning for reducing the burden of ovarian cancer through prevention. Our long-term objective is to conduct clinical studies for prevention of ovarian cancer in high-risk women (including those carrying BRCA mutations) by surgical or medical approaches.
Note:
The intention of the information provided in this web site is at present for educational and research purposes only. The biological and clinical significance of STIC and STIL is a work in progress and their impact to clinical management has still to be defined. The investigators involved in this study and all the web pages in testovariancancerprevention.pathology.jhu.edu do not recommend the use of this pathological and immunostaining classification for clinical practice at the present time.
Website maintained by Dr. T-L Wang, Tiffany Chu, and the JHU Pathology Website Team